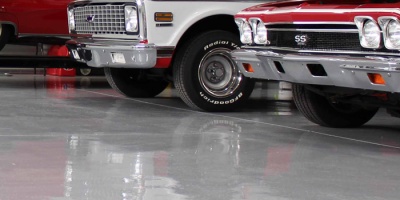 Company Background

In January of 2017 David Kendler opened Collector's Paddock, a climate controlled collector car storage facility in Houston, TX. The facility serves not only as vehicle storage, but they also provide many other services to their clients like detailing, maintenance, brokerage, valuation, and dealer sales. As it says on their website, "We want to be the classic automotive group that you turn to when you're looking for help with the purchase and care of your classic vehicles".

Project Background

With decades of automotive experience, David and his team knew the importance of protecting the concrete at their new 7,200 square foot facility.  A decision was made to protect the floors with a commercial-grade floor coating system while the concrete was fresh and free of any pollutants like oil or gas stains.  They needed a product that would not only be highly durable, but also easily maintained, and leave behind a high-gloss finish that would provide the "wow" factor for their clients.

Products Used (Click on product or system for more details.)
Strategies/Challenges

Preparation work was minimal besides the standard acid washes due to the new concrete, so their main challenge was finding the right product to fit their needs.  The product needed to be able to handle frequent vehicle traffic without prematurely wearing down, be resistant to automotive fluids like oil, gas & brake fluid, and be strong enough not to lift when vehicles were moved after months of remaining stationary.  All this, and they wanted the coating to make the facility shine like a showroom too.  Collector's Paddock ultimately turned to UCoat It to find their solution.

Results/Solutions

After speaking with UCoat It representatives at the 2016 SEMA show as well as over the phone, they ultimately choose the UClad-LV system in medium gray.  UClad-LV is a high-build, 100% solids epoxy that leaves a high-gloss finish and is ready for high traffic as little as 12 hours after application.  Typically used in high-traffic manufacturing warehouses, distribution centers, and race shops, UClad-LV provides an extremely hard finish making it incredibly durable and chemical resistant.  David said "UCoat It's UClad-LV has exceeded all our expectations; our clients are always complementing our floors".

Click here to learn about Collector's Paddock.