Places You Can Use Floor Coatings: Commercial
Professional, commercial-grade floor coating businesses have been around for many years but mainly have only been coating warehouses, body shops, garages, and factories. However, there are others places that businesses can benefit from installing a floor coating system!
Areas including showrooms, offices, hallways, breakrooms, bathrooms, and more can all be treated with a UCoat It floor coating system. Depending on your wants and needs, there are a couple different systems we suggest for these indoor spaces. Our UCoat, UCoat with UFlek, and UCoat with UGloss are all great options to help your floors become easier to clean, more durable, and beautiful.
UCoat is our base system that is easy to apply, durable, and leaves floors looking professional with a satin/semi-gloss finish. This water-based, two coat system comes in 12 colors and the standard kit covers up to 575 square feet. Applying the system couldn't be easier because it can go on wet/damp substrate right after an acid wash.
UCoat with UFlek kicks it up a notch by adding decorative flakes that turn your attention to the floor. Not only are the flakes decorative and fun but they also add texture to your floor. The part of UFlek that we love most is how no floor looks the same when used. Since the flakes are hand broadcasted, you can apply them light, medium, or heavy, whichever you find most reasonable. We even offer flakes in glow-in-the-dark and metallic colors for those wanting to add some pizazz to their floors!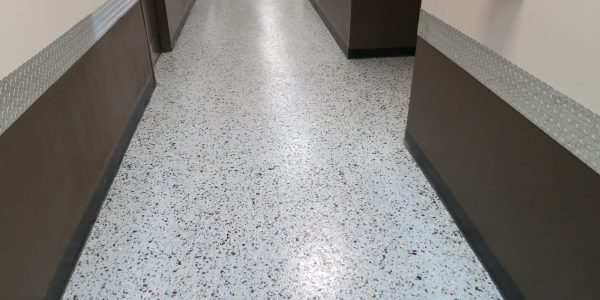 UCoat with UGloss is done in three coats, two coats of our UCoat water-based epoxy and one top coat of our UGloss water-based aliphatic high performance urethane. UGloss comes in one color, clear, which allows your base coat to show its color well. Our UCoat with UGloss system does well on any type of area but is phenomenal for showroom facilities because it knocks the floor up one notch with a high-gloss shiny finish. It will leave your floors durable, abrasion resistant, and professional looking in a semi to high-gloss finish.
Coating these specific areas will not only boost the look and atmosphere of your business but will also help protect from spills and the daily wear and tear from foot traffic. Your floors and bank account will thank you for strengthening and lengthening the lifespan of its substrate!
Want to receive even more information about our top three garage systems? Click here and we will send you a digital copy of our catalog. Our catalog will provide you will a ton of information about every single system and product we offer, to help guide you to what you are looking for!
Do you have any further questions you would like answered? Contact us here!