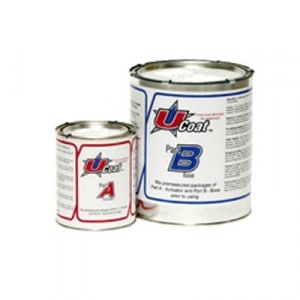 UCoat® is a modified, two component, high performance water based epoxy.  One of the many features of UCoat® is since it is water based, there is virtually odor free, nonflammable and easy to apply.  When used as a primer UCoat is applied to a wet-damp surface allowing UCoat to flow and penetrate the substrate.
UCoat® can be used as a standalone coating or top coated with any of UCoat It's floor coating products.  If applying UFlek decorative flakes over UCoat, a minimum of two coats maybe required depending on porosity of the substrate and color.
Coverage Per Gallon: up to 575 sq.ft.
Gloss Rate: Satin to Semi Gloss
Working Time: 90 minutes at 68°
Dry Time: 4 to 6 hours at 68°
Full Cure: 3 to 5 days at 68°
Primer:  None Required
Top Coat: Optional – For additional color stability, uv resistance and chemical resistance.  If using as a standalone system, additional coats are required.