Which Anti-Slip Is Right For You
Which Anti-Slip Is Right For You
One common misconception people have regarding epoxy floor coatings is that they are extremely slippery. While it is true that when wet they can become slippery, this is only the case if anti-slip aggregate is not used. Lucky for you, every one of our floor coating systems comes standard with our UTex anti-slip aggregate so you never have to worry about slipping on your floors. To further help you get your ideal finish, we offer two different types of aggregate, so you can choose the best one for your specific space!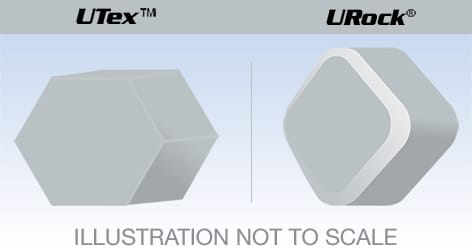 The standard anti-slip aggregate that comes with every UCoat It purchase is UTex. An industrial-grade, aluminum oxide, UTex is a small granule with aggressive edges that allow it to protrude through multiple layers of product providing you exceptional skid resistance. The sharp edges provided by this aggregate make for the most aggressive anti-slip option we have available and can be ideal when used in high traffic areas like garages, automotive shops, warehouses or fire stations.
URock is a larger quartz aggregate that is offered as a less aggressive, easier to clean alternative to UTex. The larger size allows URock to provide a non-slip surface while its rounded edges make for a much less abrasive finish, ideal for any area where bare feet or pets paws will frequently contact the floor like your home, locker rooms, and pet kennels. This option is also ideal for other spaces like commercial kitchens, restrooms, retail facilities, and pool decks where frequent cleaning is required. Available in several different colors this product can also be used decoratively and responds well even when used in high densities.