Let Your Showroom Set The Tone For Your Shop. A Stunning Floor Can Be The Start!
Just imagine, in just a weekends time you can transform your space into a truly stunning showroom with one of our high-gloss, epoxy floor coatings. No matter what your tastes, from exotic finishes like a metallic epoxy, to a more traditional solid bright white, we've got what it takes to make your showroom really pop! Unlike tile that is commonly used in automotive showrooms, our products provide a seamless design allowing for easier clean-up. Warrantied against peeling, blistering, and hot tire pickup, you can apply our floors with confidence knowing that they have been used with great success across the automotive industry for decades!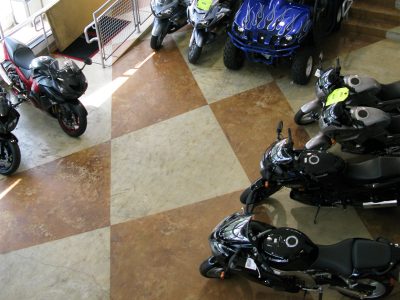 Inexpensive Flooring Options
For as low as 25¢ a square foot our UDecor Stains can provide a very inexpensive flooring option.  Not only does it provide a quick turnaround but provides a colorful finish.
Make A Statment In Your Lobby
UCoat It offers several types of floor coating systems so you can make a statement! From checker board finishes, metallic floor coatings to stains and more.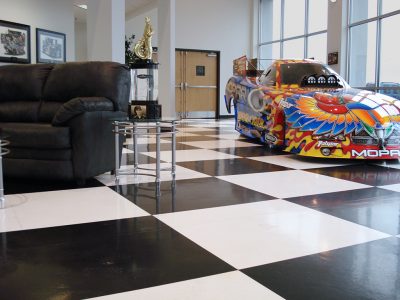 Ready To Get Your Project Started?
Recommended Floor Coating Systems: