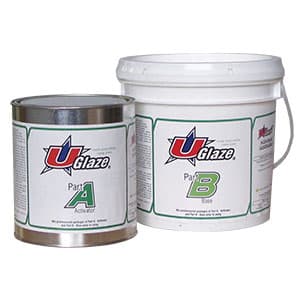 UGlaze® is a water based two component, non-yellowing aliphatic urethane top coat.  UGlaze is typically used to coat and seal concrete, wood, metal and plastic, as well as a top coat over any UCoat It® floor coating system.
UGlaze® provides a hard, gloss finish with excellent chemical and abrasion resistance, plus uv stability for outdoor exposure.  When used outdoors UGlaze® is well suited for areas subject to high humidity which are prone to fungal and bacterial growth. 
As a water repellent, UGlaze® provides excellent sealing capacity against the penetration of water while retaining the ability to allow water vapor to eacape.
Coverage Per Gallon: up to 600 sq.ft.
Gloss Rate: High Gloss
Working Time: 90 minutes at 68°
Dry Time: 4 to 6 hours at 68°
Full Cure: 3 to 5 days at 68°
Primer:  None Required if being applied directly to concrete as a sealer.  If used as a top coat the recommended primer would be UCoat.