UCoat It systems provide excellent chemical and abrasion resistance
Customer facing areas of your shop or dealership require a unique solution for your floors. Ideally you would have a floor that not only will hold up to all that vehicle traffic, but one that looks good doing it too. No matter what type of design you are trying to achieve we have everything you need to complete your project. We offer classic solid color systems, flake-based systems, optional pinstriping, metallic finishes, etc. All these decorative options can be paired with our automotive, urethane-based top coats giving you added chemical and abrasion resistance!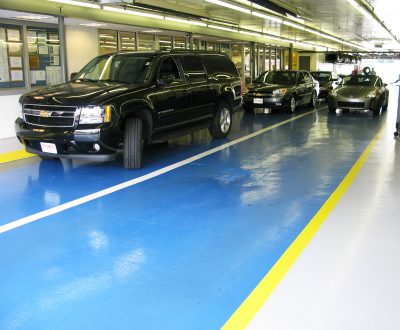 Safety For Employees and Customers
Our commercial-grade systems come with a non-slip additive to allow a safe surface when wet from rain water or melting snow.
Limited Downtime For Installation
Some of our floor coating systems offer quick turnaround limiting the downtime to as little as 24 hours. Allowing for shop areas open six days a week the opportunity to have a professional looking floor.
Ready To Get Your Project Started?
Recommended Floor Coating Systems: