Transform Your Body Shop Into The Ideal Body Shop - Bright, Easy to Clean and Chemical Resistant
Exposed concrete floors in an automotive setting like a body shop will quickly become oil soaked and overtime, the heavy vehicle traffic, metal shavings, welding slag, and corrosive chemicals will take its toll. Premature wear like surface cracks, chipped or spalled areas can be prevented though with one of our protective floor coatings. Built specially for automotive use, our products are designed to withstand these harsh environments including exposure to automotive fluids like oil, gas, brake fluid, and more. See our recommeded systems below.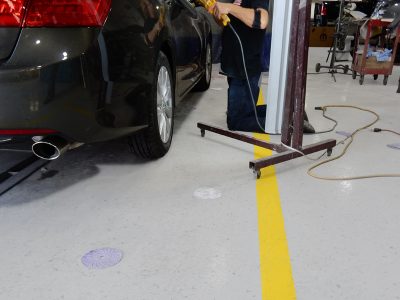 Industry Tested Durability
With thousands of car dealerships and automotive shops throughout North America. UCoat It floor coating systems are extremely rugged plus provide a high gloss light reflective finish, excellent for paint booth and shop areas.
Limited Downtime - No Problem Time
Some UCoat It floor coating systems are excellent for areas that require a quick turnaround.   Our UClad-LV system can be applied in one day and ready for traffic in as little as eight hours.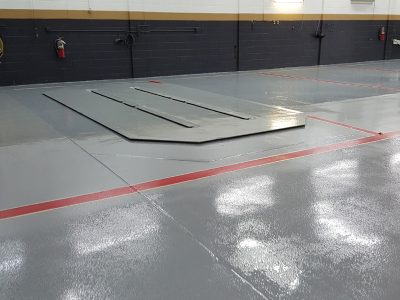 Ready To Get Your Project Started?
Recommended Floor Coating Systems: